Connection at MyPay.lu
---
How to activate the MyPay.lu account?
When your first payslip is available on MyPay.lu, you will received an e-mail received from "mailer_XXXXXXX@ifpayroll.lu".
To activate the account, you simply need to click on the activation link: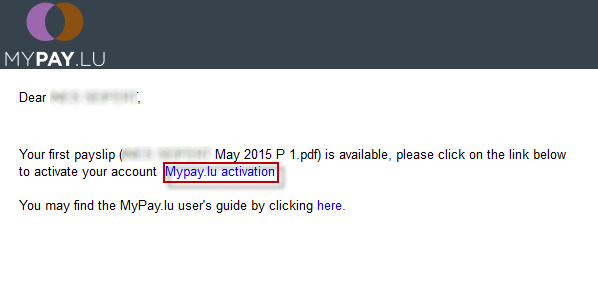 How to connect if I forgot my password?
Navigation through MyPay.lu
---
How to download all documents from one year in one click?
It is possible to download the file Payslips-XXXX.zip which includes all the files regarding the desired year by clicking on the button:


Where is my remuneration certificate?
Once sent, the remuneration certificate will be available in the year corresponding to it.
For example, the 2014 remuneration certificate will be found in the 2014 file although it is usually sent during the year 2015.
Messages d'erreurs
---
activateaccount.error.accountalreadyvalidated
This message appears when you click on the activation link while the account is already activated.
Support
---
How to contact our support ?